Host
Tommy Little
Broadcast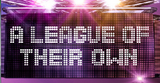 Network Ten: 16 September 2013-18 November 2013
Packager
Freehand Production
A League of Their Own Based on the British format of the same name (and not to be confused with the 1992 film of the same name) was a short-lived comedy panel game.
The show is a standard panel quiz show where two teams of three compete for points awarded in three rounds in order to find the overall winning team by points total.
Round 1 involves both teams either having to rank three different sports persons according to a specific criterion or match sports persons to specific criteria.
Round 2 (Battle of the Codes) involves a member from each AFL and an NRL team go head-to-head where as the teams must choose which party they lend their support.
Round 3 (Human Clock) sees one or two members of each team have to answer questions for as long as the other team members can sustain a physical challenge in the studio.
Often within the first round, teams have to complete short physical tasks, which are usually linked to either one of the guests on the teams or to the question they have to answer.
Ad blocker interference detected!
Wikia is a free-to-use site that makes money from advertising. We have a modified experience for viewers using ad blockers

Wikia is not accessible if you've made further modifications. Remove the custom ad blocker rule(s) and the page will load as expected.