Host
Rove McManus
Broadcast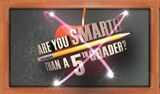 Network Ten: 26 September 2007 -30 October 2009
Packager
Roving Enterprises
Are You Smarter Than a 5th Grader? based on the U.S. format of the same name, features contestants trying to answer primary grade-school questions in order to win $500,000.
Main theme - by David Vanacore
Same theme as the American version, but with different vocals with an Australian accent.
Ad blocker interference detected!
Wikia is a free-to-use site that makes money from advertising. We have a modified experience for viewers using ad blockers

Wikia is not accessible if you've made further modifications. Remove the custom ad blocker rule(s) and the page will load as expected.