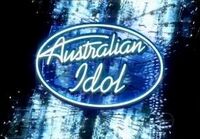 A singing competition where many people compete on live TV to see who can win. After passing the trials with the three judges, the finalists compete live to earn the viewers' votes. Whoever wins becomes the next American Idol.
Broadcast History
Edit
Network Ten: July 27, 2003–November 22, 2009
Packagers
Edit
Grundy Television (2003-2007)
FremantleMedia Australia (2007-2009)
Andrew Günsberg (2003-2009)
James Mathison (2003–2008, 2014-present)
Ricki-Lee Coulter (2004–2009)
Marcia Hines (2003-2009)
Ian Dickson (2003-2004, 2007-2009)
Mark Holden (2003–2007)
Kyle Sandilands (2005–2009)
Jay Dee Springbett (2009)
James Savery (2014-)
Dannii Minogue (2014-)
Natalie Imbruglia (2014-)
Justin Timberlake (2014-)

Based on the British show Pop Idol by Simon Fuller.
Ad blocker interference detected!
Wikia is a free-to-use site that makes money from advertising. We have a modified experience for viewers using ad blockers

Wikia is not accessible if you've made further modifications. Remove the custom ad blocker rule(s) and the page will load as expected.