Host
Bob LaCastra
Broadcast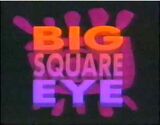 ABC: 1 July 1991 - 6 November 1992
Big Square Eye was a short-lived kids game show, hosted by Bob LaCastra for ABC TV from 1991-92 with future musician Paul Mac as "Knuckles" McDermott on the Sound Effects.
Each round started with a challenge being explained to the children in the audience. Then picking at random 3 kids to come and have a go at whatever it was. They would do this three times and then at the end of the show pick a player from each game and then pick an ultimate winner from those three. With the winner being granted the right to wear the Winner's Jacket and get a trophy.
Ad blocker interference detected!
Wikia is a free-to-use site that makes money from advertising. We have a modified experience for viewers using ad blockers

Wikia is not accessible if you've made further modifications. Remove the custom ad blocker rule(s) and the page will load as expected.