Hosts
Graham Kennedy (1977-1979)
Daryl Somers (1985-1986)
Shane Bourne (1996-1997)
Announcer (1996 version only)
Pete Smith
Dob in a Mate Segment
Steven Jacobs
Broadcast (Network Ten)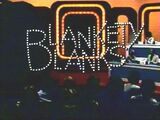 1977-1979
Broadcast (Nine Network)
1985-1986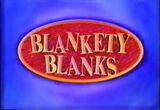 1996-1997
Packager
Grundy Organization
Blankety Blanks (also formerly-known as Graham Kennedy's Blankety Blanks) was a comedy-driven game show based on a U.S. format called Match Game where two contestants had to match answers with six celebrity panelists to fill-in-the-blank questions.
Two contestants, including a returning champion, competed. The contestants were always a man and a woman – at no point did two people of the same gender compete. The object was to match the answers of the six celebrity panelists to fill-in-the-blank statements.
The main game was played in two rounds. The challenger was given a choice of two statements labeled either "A" or "B." Kennedy then read the statement. Many of the show's questions were designed as double entendres, such as "Joan and Paul went to bed and Joan asked Paul to 'blank' her".
The celebrity panelists wrote their answers on cards, after which the contestant gave their answer. Kennedy then asked each celebrity in turn, beginning in the upper left hand corner, to reveal their response. The contestant earned one point for matching answer (or reasonably similar as determined by the adjudicator – producer Tony Connelly who was dubbed by Kennedy "Tony the moustache twirler").
After completion of the round, Kennedy read the statement on the other card for the defender and play was identical.
The challenger again began Round 2, with two new questions, unless he/she matched everyone in the first round. Only panelists that a contestant didn't previously match played this round. If the players tied with the same score at the end of the round the scores were reset to 0–0. Play continued until there was a clear winner.
The winner of the game went on to play the Super Match. The contestant had to match a word in a fill-in-the-blank phrase with the most popular response given in an audience survey. The contestant could consult three panelists for suggestions. The most popular answer in the survey was worth $100, the second-most popular $50, and the third most popular $25. The contestant won the amount of the answer they matched with.
If a contestant failed to match any of the three answers, the bonus round ended. If successful the contestant had the opportunity to win 10 times that amount in the "Head-To-Head Match". In this part of the game, they must match another fill-in-the-blank response with a celebrity panelist of his or her choice. If successful, he/she won the money accumulated in both parts of the round. Either way, the winning contestant could keep playing until defeated by another challenger.
Running gags
Edit
Many questions were quotations of a fictional character named Cyril, and would begin "Cyril said..." with the quotation recited by Kennedy in a stereotypical gay male voice (Cyril was Kennedy's middle name). Another recurring character in the questions was Dumb Dora – a joke borrowed from Match Game. A recurring comedy skit between Kennedy and Gray involved discussion about a man named "Dick", leading to "Did Dick?", "Dick did!" exchanges between Kennedy and Ugly Dave Gray.
Kennedy's risque brand of humour often nudged the boundaries of contemporary Australian broadcasting standards. Peter Rhys-Davies was the crew member behind the show's sets pulling the lever that uncovered the correct answers on the board (Australian version of Earl from US). In one running gag he was dubbed "Peter the Phantom Puller" by Kennedy. To reveal each answer in turn, Kennedy would call out "Peter could you have a pull", "Pull it Peter!", etc.
In one episode Kennedy came on with a prepared list of "rude" words which were deemed acceptable to be spoken on-air. Throughout the episode, he would suddenly launch into a chant of "wee poo bum, wee poo bum!"
The series was a Reg Grundy production based on the long-running American game show Match Game, which had been created by Mark Goodson and Bill Todman. Indeed, the Blankety Blanks set looked almost identical to its American counterpart.
One of the conditions Graham wanted when he started Blankety Blanks was the right to choose the members of the panel. If they worked well they would be retained but if they didn't work out well they wouldn't be asked back.[1]
The first episode aired on TEN-10 Sydney on Monday, 24 January 1977 at 7:30pm, where it was stripped Monday to Friday. After six weeks of broadcasting at 7:30pm the show was moved into the 7pm slot, where it remained through to the end of its first season on Friday 2 December 1977. After summer break, the show returned to TEN-10 on Monday 9 January 1978 and remained stripped at 7pm Monday to Friday for its entire second season.[2]
In October 1978 the series came up for renewal, and Ten was keen to renew the series. Kennedy consulted key panelist Ugly Dave Gray about the potential renewal. Gray felt he had used all his jokes and exhausted the comic potential of the formula and expressed a desire to not continue with the series. Kennedy observed that the ratings were down from earlier figures; although earlier figures were unusually high (ratings in the 40s), recent figures in the 30s range were still extremely high. In any event, Kennedy informed Ten that he would not be continuing with the series, and the show ended its run on TEN-10 Sydney on Friday 3 November 1979.[3]
The series has been repeated many times since its run ended. It was shown by the Ten Network many times though the 1980s. In the 2000s it has been screened in Foxtel's TV1. Beginning in January 2009, The Comedy Channel began screening back-to-back episodes on Friday nights.
A DVD set of 30 episodes was released in late 2005.
Two Other Australian versions using the same format appeared in later decades. A 1985-1986 version hosted by Daryl Somers on the Nine Network had little success. This was followed by a second revival in 1996-1997, again appearing on the same network like before. This time, it was hosted by Shane Bourne. This had slightly more success, lasting two seasons. Both of these versions followed the same format as the Kennedy version, but with a top prize of $5,000 (Audience Match amounts were $500–$250–$100, equaling those from the 1973–1982 American versions of Match Game).
International Version
Edit
In the United Kingdom a version based on the format, called Blankety Blank for which it was later re-titled as Lily Savage's Blankety Blank, was very popular, originally running on BBC1 from 1979–1990 and from 1997-1999 along with a revival from 2001-2002. The original host for this version were Terry Wogan (1979-1983) followed by Les Dawson (1984-1990) and finally, Lily Savage "a.k.a Paul O'Grady" (1997-1999 & 2001-2002).
Press Photos
Edit
Merchandise
Edit
Joke Book
Edit
A Graham Kennedy's Blankety Blanks Joke Book was released.
Lemonade Drink
Edit
A Graham Kennedy's Blankety Blanks Lemonade drink was released in the 70's.
Board Game
Edit
A Graham Kennedy's Blankety Blanks board game was released by Climax Corporation Pty ltd.
Record Album/Cassette Tape
Edit
A Graham Kennedy's Blankety Blanks record album and Cassette Tapes was released by Laser in 1977.
A Graham Kennedy: The King of Television documentary including clips of Graham Kennedy's Blankety Blanks was released by Sony BMG in 2004.
A Graham Kennedy's Blankety Blanks 5-DVD set was released by Umbrella Entertainment in 2005.
Prior to this a "Part 1" and "Part 2" DVD sets of Graham Kennedy's Blankety Blanks were also released in 2009.
References
Edit
↑

TV Week magazine, March 11, 1978 – page 9.

↑ http://archives.smh.com.au/Default/Skins/Master/Client.asp?Skin=Master&enter=true&AppName=2&AW=1327228901859
↑ Gray, Dave. It's Funny Being Ugly, New Holland Publishers, 2005. ISBN 1-74110-409-2 p 151
YouTube Links
Edit
Episodes of Blankety Blanks (1)
Episodes of Blankety Blanks (2)
Episodes of Blankety Blanks (3)

Ad blocker interference detected!
Wikia is a free-to-use site that makes money from advertising. We have a modified experience for viewers using ad blockers

Wikia is not accessible if you've made further modifications. Remove the custom ad blocker rule(s) and the page will load as expected.