Host
Greg Evans
Hostesses
Nicky Buckley
Ankie Nordberg
Broadcast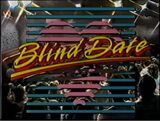 Network Ten: 1991
Packager
Grundy Organization
Blind Date was once considered an ill-fated revival of Perfect Match. Not to be confused with the long-running British dating game show of the same name.
A young, single person would be sent on a blind date with one of three people from the opposite sex. The potential partners are hidden behind a barrier, and the individual contestant selects which of the group of three contestants will be accompany him or her by asking each of them three questions and making decisions based on the answers each gives. after making the decision; the "individual" contestant he or she did not select, then the meet their potential date for the first time.
After the date, contestants are invited back on the show; where they discuss the experience. prior to coming back to the studio where both members are asked the same questions about the date. their answers are pre-recorded and revealed on air.
Article about the show @ Australian Game Shows Page
YouTube Video
Edit