Hosts
Philip Brady (1959-1967)
Terry Dear (1959-1960)
Howard Craven
Ron Cadee
Don Davies
Lionel Williams (1970)
Mike Hammond (1997)
Assistant
Joan McInnes
Announcer
Cameron Humphires (1997 version only)
Broadcast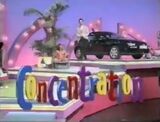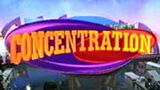 Nine Network (1959-1967)
Seven Network (1970, 1997)
Packagers
GTV-9 (Melbourne)(1950-1961)
Grundy Organization1959-1967, 1970)
All American Fremantle International (1997)
Beckers Entertainment (1997)
Concentration based on the U.S. format of the same name, contestants try to match pairs of cards that were gradually removed from the board, slowly revealing elements of a rebus puzzle that one of the contestants had to solve to win prizes.
In 1997, the winner could win one of eight major prizes by finding seven matching pairs of prizes with the eighth prize having no match. New champions started with a time limit of 40 seconds. Clearing the board in time retired the champion with the last major prize matched. If time ran out, the player continued as carryover champion.
Merchandise and photos
Edit
A Concentration board game was released by John Sands Pty ltd. in 1960. (NOTE: The artwork cover of the board game is based on Milton Bradley's Third Edition from the U.S.)
...Prior to this, a second edition was released in 1962. (NOTE: The artwork cover of this edition looks similar to that of Milton Bradley's second and fifth Edition from the U.S.)
Main (1970) - "Boogaloo Smith" by James Clarke
Based on the American game show of the same name by Jack Barry & Dan Enright
Match Mates - Kids' version
Youtube Link
Edit
A 10 minute edit version of Concentration Pilot 1997 and
☀Main (1970) - "Boogaloo Smith" by James Clarke https://www.youtube.com/watch?v=Mf2NdUiy4Hk
Ad blocker interference detected!
Wikia is a free-to-use site that makes money from advertising. We have a modified experience for viewers using ad blockers

Wikia is not accessible if you've made further modifications. Remove the custom ad blocker rule(s) and the page will load as expected.