Host
Sarah Murdoch
Celebrity Team Captains
Jason Derulo & Kelly Rowland
Broadcast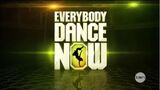 Network Ten: 12 August-19 August 2012
Packager
FremantleMedia Australia
Everybody Dance Now was a short-lived reality dance contest show where it was open to solo acts, duos or groups of any age, style or size.
The series consisted of two phases which are heats an finals. The show was open to dancers of all ages and styles, who were divided into two teams with each being taken under the guidance of big name entertainment celebrities known as the dance masters in order to do battle in a colosseum-style duel. During the heats stage of the competition, eight acts would perform during each episode in four duels. Once each duel was complete, the studio audience would vote for he act they think should progress through to the dancer duel decider round. During this round, the studio audience would vote again for the two acts they think should win $10,000 and progress through the finals. During the finals, dance acts would compete for the ultimate prize of $250,000. But there turn out to be no finals, and of course, no winners due to the show's cancellation.
Ad blocker interference detected!
Wikia is a free-to-use site that makes money from advertising. We have a modified experience for viewers using ad blockers

Wikia is not accessible if you've made further modifications. Remove the custom ad blocker rule(s) and the page will load as expected.