Hosts
Shae Brewster (Season 1)
Candice Dixon (season 2)
Broadcast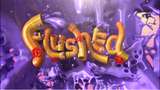 7TWO: 16 March 2015-5 August 2016
Flushed was a children's rip-roaring game show.
Two teams battle it out to determine who wins the prize and who ends up covered in purple sludge. The teams put their general knowledge and strategy skills to the ultimate test.
Yahoo Plus 7 site
The show's description at Ambience Entertainment
Ad blocker interference detected!
Wikia is a free-to-use site that makes money from advertising. We have a modified experience for viewers using ad blockers

Wikia is not accessible if you've made further modifications. Remove the custom ad blocker rule(s) and the page will load as expected.