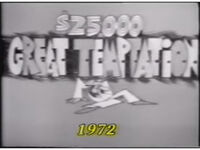 Great Temptation (originally titled New World Temptation and later Temptation) was the first Australian version of Sale of the Century, in which contestants competed in a beat-the-buzzer trivia competition, with scores equaling "dollars" which contestants could use to buy prizes at greatly reduced prices.
Temptation first aired as a weekday afternoon game show in 1970. About two years into its run, the show was moved to a 7pm nighttime slot (coincidentally the same timeslot used for Sale of the Century) under the title of Great Temptation (later $25,000 Great Temptation). Not long after, Tony Barber received the 1973 Gold Logie for his hosting of Great Temptation.
In 1974, Great Temptation was moved to an 8:30pm timeslot to compete with Australian drama Number 96. Unfortunately, Number 96 won the ratings battle, so Great Temptation was eventually cancelled in 1975.
Broadcast
Edit
Seven Network 1970–1975
Tony Barber
Barbie Rogers
Sale of the Century
Temptation
References
Edit
YouTube Link
Edit