Host
Tom Gleisner
Broadcast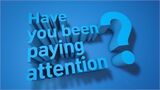 Network Ten: 3 November 2013 - present
Packager
Working Dog Productions
Have You Been Paying Attention? was a topical quiz show with a mix of news and comedy.
Described as a fast-paced, funny look at international affairs, politics, sport and show-business news, the series quizzes five guests to see who can remember the most about events of the week.
Ad blocker interference detected!
Wikia is a free-to-use site that makes money from advertising. We have a modified experience for viewers using ad blockers

Wikia is not accessible if you've made further modifications. Remove the custom ad blocker rule(s) and the page will load as expected.