Host
Nick Vindin
Broadcast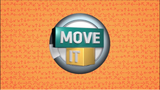 GO!: 17 February 2014 – present
Packager
Ambience Entertainment
Move It is a children's game show where its all about putting items into the correct one which could be anything like heaviest animals, largest countries or fastest cars.
Over four frantic rounds two teams of two kids will go head-to-head as they try to order the different categories thrown at them by Nick Vindin. The more they get right, the more points they'll score. And after four rounds, the team with the highest score will go on to play for some great prizes in the end game - The Final MOVE IT!
Each team has their own chain, a bank of five monitors that stands behind them. In the Links of the Chain (the monitors) appear images, illustrations or the names of various items. Against the clock, the teams must put items into what they think are the correct order by running and locking in the answers on the screen. For example: in the Chain are five planets from our solar system. You have 30 seconds to "Move It" into the distance they are from the sun. The items in the chain in one go and the teams simply have to order them. Other rounds see the teams going head-to-head, buzzing in to answer questions about what items appear in the Chain. Points are scored for correct answers as well as placing them in the correct answers as well as placing them in the correct order once they've all been revealed. There's variety, hecticness and loads of entertainment throughout the whole shows! After the four rounds are complete the highest scoring tam will go on to play the end game called The Final MOVE IT. Here photos appear in the chain that the team will be asked questions about. For every answer they get right they get points. The winning teams goes through to the final MOVE IT round. If they get the items in the correct order, they win a bonus prize.
Official Website
Move It Ambience Entertainment site
Video site