Hosts
John Bailey
Joe Martin
Bob Moore
Jimmy Hannah
Broadcast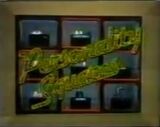 Network Ten: 1967-1969, 1981
Personality Squares was based on the U.S. format called Hollywood Squares where two contestants tried to get three stars in a row either across, up and down or diagonally, by correctly either agreeing or disagreeing with the stars answers. 
Celebrity Squares
All Star Squares
Ad blocker interference detected!
Wikia is a free-to-use site that makes money from advertising. We have a modified experience for viewers using ad blockers

Wikia is not accessible if you've made further modifications. Remove the custom ad blocker rule(s) and the page will load as expected.