Hosts
Nick Stratford (2005)
Peter Everett (2006–2011)
Colin Lane (2011-2013)
Broadcast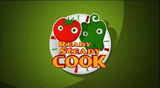 Network Ten: 2005 - 2013
Packagers
Endemol Southern Star (2005-2009)
Southern Star Group (2009-2013)
The cooking game show where two teams cook-off in a race against time.
Two professional chefs with two members of the studio audience (one per chef) competed as teams to prepare the best meal. One was called "Tomatoes", the other "Capsicum" (Green Peppers).
The teams were given 20 minutes trying to make the best meal they can. The host would meanwhile move back and forth between the teams to ask questions about the meals being produced.
New challenges were introduced in 2009. As well as the regular gourmet and classic bags, the chefs are given surprise new challenges that push their cooking skills to the limit.
Based on the British series Ready... Steady... Cook!