Host
Grant Denyer
Team Captains
Cal Wilson & Toby Truslove
Broadcast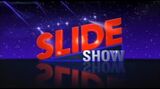 Seven Network: 7 August 2013-13 November 2013
Packager
Seven Network Australia
Shine Australia
Slide Show based on the French format called Vendredi Tout est Permis Avec Arthur (On Friday, Anything Goes with Arthur/Anything Goes) was an Australian light entertainment show.
Two teams of three celebrities competed in a number of challenges and parlour games, including the ones on a huge set that slides.
The series was officially cancelled in February 2014.
Ad blocker interference detected!
Wikia is a free-to-use site that makes money from advertising. We have a modified experience for viewers using ad blockers

Wikia is not accessible if you've made further modifications. Remove the custom ad blocker rule(s) and the page will load as expected.