Host
Ian Turpie
Co-Host
Tania Zaetta
Announcers
Col Mooney
Alan Glover
Broadcast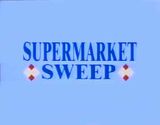 Nine Network (Daily): 1992 - 1994
Packager
Fremantle International Productions
Supermarket Sweep was a short-lived Australian version of the show based on the American format of the same name.
The supermarket on this show was originally a Coles Supermarket, but was later changed to a generic supermarket. The latter set was identical to the American show, as was the case with most Grundy-produced Australian games based on American programs.
Pairs of contestants, randomly selected from the studio audience, are asked questions about television commercials and supermarket merchandise, with correct answers increasing their allocated time in a 'shopping spree.' Each team started with one minute and earned 10 seconds for each correct answer. Contestants use their allocated time to run through the mock-supermarket, filling their trolleys with as much merchandise and bonuses as possible. Penalties would be assessed for damaging items or dropping items without picking them up.
Bonuses included:
Each team who returned the three items on the "shopping list" scored $250.
Grinding a bag of coffee earned $100.
Four oversized bonus items with values of $50, $100, $200, and a bonus prize, the value of which did not count towards that team's total.
The team with the highest value of merchandise is deemed the winning team, and plays in a treasure hunt-style bonus game, in which four clues suggest which products must be found. Each clue found was worth increasingly valuable prizes, with a car as the top prize.
YouTube Links
Edit
1992 debut promo
Another 1992 promo
1992 promo for a Celebrity Special
The first portion of an episode from 1994
The second half of an episode from February 19, 1992
Ad blocker interference detected!
Wikia is a free-to-use site that makes money from advertising. We have a modified experience for viewers using ad blockers

Wikia is not accessible if you've made further modifications. Remove the custom ad blocker rule(s) and the page will load as expected.