Host
James Kerley
Broadcast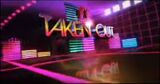 Network Ten: 1 September 2008 - 26 February 2009
Packager
FremantleMedia Australia
Primarily a studio-based show, Taken Out invovles a single person who is introduced to 30 single people of the opposite sex, which were revealed to them in the "Taken Out" arena.
The show is split into two sections, he initial selection in the studio; and the two stage date. During the course of the game; the host presents information and videos about the single person and based upon this information, the  30 people periodically decide independently. If they should "Leave Their Light On" and stay in the game with the chance to date the single person or to "Turn Their Light Out" and exclude themselves from the chance to date that person.
Despite being a flop here, the format has been sold to over 25 countries worldwide, in most countries are mostly called under the title "Take Me Out", except for Brazil, Canada, Chile, China, Denmark, Estonia, France, Hungary, Norway, South Korea, Spain, Sweden and Ukraine.
Open - "I Never Liked You" by Rogue Traders