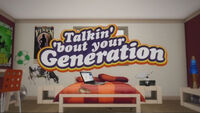 An hour-long quiz show testing the popular culture knowledge of teams from three different cultural generations.
Broadcast
Edit
Network Ten 2009-2012
Shaun Micallef
Merchandise
Edit
A home game was released by Imagination in 2009. Prior to this, It was also re-released as a "Platinum" edition later on.
An Interactive DVD game featuring host Shaun Micallef on the cover was also released.
A CD album featuring various musical artist was released.
Ad blocker interference detected!
Wikia is a free-to-use site that makes money from advertising. We have a modified experience for viewers using ad blockers

Wikia is not accessible if you've made further modifications. Remove the custom ad blocker rule(s) and the page will load as expected.