Host
Athol Guy
Broadcast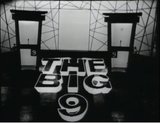 Nine Network: 1969-1970
The Big 9 was a short-lived quiz show based on the American format Twenty-One.
two contestants in isolation booths try to answer questions correctly while reaching a score of 21 before his or her opponent does.
YouTube Video
Edit
Ad blocker interference detected!
Wikia is a free-to-use site that makes money from advertising. We have a modified experience for viewers using ad blockers

Wikia is not accessible if you've made further modifications. Remove the custom ad blocker rule(s) and the page will load as expected.