Hosts
Bert Newton (1969)
Mike Preston (1976-1977)
Broadcast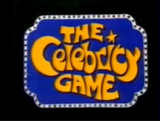 Nine Network (1969)
Network Ten (1976-1977)
The Celerity Game Based on the game of charades, involving two teams of celebrities.
Two teams of three celebrities and a contestant competed in a game of charades, where one player acts out a word or phrase, often by pantomiming similar-sounding words and the other players guessing the word or phrase.
Guest Regulars
Edit
The celebrity regulars included Joy Chambers, Joe Martin, Johnny Pace,  Harriet, Stuart Wagstaff and Barry Creyton.
YouTube Links
Edit
Ad blocker interference detected!
Wikia is a free-to-use site that makes money from advertising. We have a modified experience for viewers using ad blockers

Wikia is not accessible if you've made further modifications. Remove the custom ad blocker rule(s) and the page will load as expected.