Host
Larry Emdur
Broadcast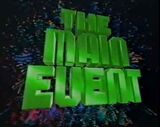 Seven Network: 1990-1992
Packager
Leisuretime Media
The Main Event was hosted by Larry Emdur from 1990-92. Produced by the Seven Network.
The show consisted of two teams of three celebrities playing in the studio for a team at home that were also linked into the show by satellite and could answer certain questions.
Were random but could include the following:
What Do You Know?
Edit
This round consisted of questions including Name That Tune, Odd One Out, Who Am I, Which Movie Is This. Then the home contestants would be asked a question with a multiple choice answer.
Picture This
Edit
A board of six numbers would be displayed. Behind each number a picture relating to an overall theme of the board (ie. Famous Landmarks)
Who Lives Here
Edit
A camera would be invited into a celebrity's home and shown footage of inside as well as things they like doing at the end of the footage they had to guess who it was. Then the home team would be asked if they had a better answer than the celebrities. Then the now revealed celebrity would be asked a bunch of questions but the contestants would only hear the answers. Then they had 30 seconds to give the correct answers to the questions on the board. Then the home team would be given a true or false question from the celebrity.
Who Is This
Edit
A round consisting of celebrities who had been digitally altered being guessed by the home teams by hitting their buzzers.
Observation
Edit
A clip of a movie or TV show would be played to each team and then asked about certain elements of it. Each celebrity was not allowed to confer with their teammates when asked their question
Championship Round
Edit
The leading home team would be given a choice between two possible topics they will be quizzed on. Then play went to the other team who would be asked questions in the other category. Each team would be given 45 seconds to answer as many questions as possible
The winner in Championship Round would win a Subaru car
Home Teams
Edit
Each celebrity team in the studio had a team at home that could play the game live via satellite with a buzzer at each Home. During the show Larry would interact with the families showing abilities or quirky things about them. During the show a Subaru would arrive in their front yard with the winning team rushing out to it at the end of the episode.
Main Theme - "Walking on Sunshine" by Kimberly Rew
YouTube Link
Edit
Ad blocker interference detected!
Wikia is a free-to-use site that makes money from advertising. We have a modified experience for viewers using ad blockers

Wikia is not accessible if you've made further modifications. Remove the custom ad blocker rule(s) and the page will load as expected.