Host
Merrick Watts
Team Captains
Katie "Monty" Dimond & Dave O'Neil
Broadcast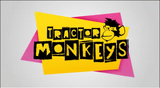 ABC1: 20 March 2013-25 December 2013
Packager
Australian Broadcast Corporation (ABC)
Tractor Monkeys was an Australian comedic television quiz show. Seventeen episodes screened on the network in the same year.
The show featured two teams of guest panelists, one led by comedian Dave O'Neil and the other by radio presenter Katie "Monty" Dimond as they compete in rounds of questions and games about trends, fads and social phenomena.
Ad blocker interference detected!
Wikia is a free-to-use site that makes money from advertising. We have a modified experience for viewers using ad blockers

Wikia is not accessible if you've made further modifications. Remove the custom ad blocker rule(s) and the page will load as expected.