Host
Ben Crawley
House DJ
Dr. Rhythm
Broadcast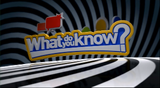 ABC3: 2010
What Do You Know? is the children's game show for ABC3 where team captains have a thing for knowing one subject.
The game is played with two teams of three kids contestants (within the age range of 12-15) each. The captain of each team has a passion for a topic of their choice such as history, sport and pop culture, with the partners in each team being the "brain trust." Correct answers to questions earn points. The six teams with the highest scores at series end will return to compete during finals week.
Ad blocker interference detected!
Wikia is a free-to-use site that makes money from advertising. We have a modified experience for viewers using ad blockers

Wikia is not accessible if you've made further modifications. Remove the custom ad blocker rule(s) and the page will load as expected.